Discussion Starter
·
#1
·
Windows Explorer "Duration" Column - no "Seconds", just "Hours" and "Minutes"
I am running Windows XP SP3, fully updated, on an Acer lap top PC.
I have several folders full of .mp3's and want to see the bit rate and duration. To do this I right click on a column heading and select "Bit rate". I then click on "More..." so I can get to "Duration", and I select that one too.
The two new columns appear, but the format of the "Duration" column appears to be "hours:minutes", so I see "00:04" or "00:03" for most .mp3's, when what I want to see is 'hours:minutes:seconds", e.g. "00:03:45".
This also happens for video files (.avi files), e.g. all my episodes of "Heroes" (sad, I know) have a duration of "00:42" instead of "00:42:xx".
Here are two pictures showing the problem with the .mp3's. The first is of Explorer showing the Duration as "Hours:Minutes":

The second picture is of the properties window of the first .mp3 in the list above: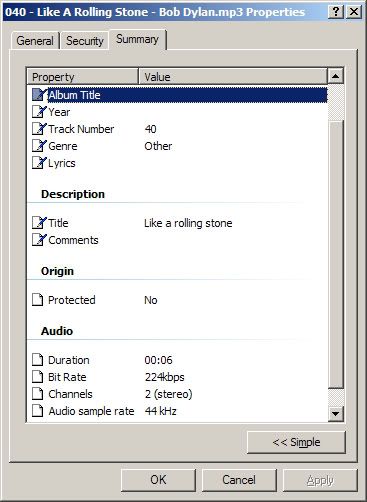 I copied some .mp3 files to another (old) PC on my home network, and it displayed the duration field correctly:

Also, the properties window correctly shows the duration also: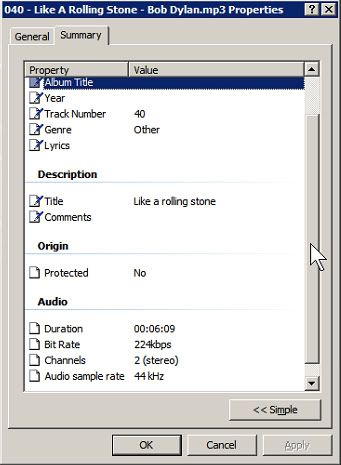 I'm not the only person to have this problem. I received a private message from a member of another forum where I posted about this problem several weeks ago. That person also has the same problem with the duration field.
The tech guys on that forum were unable to find the source of the duration field problem. But after I had such a great success on this forum with my hard disk problem
here
, I decided to try to get help here.
Thanks in advance for any suggestions.