In late 2017, there were a lot of computer brands such as Asus, Acer, and Gigabyte who came to the market with monstrous gaming laptops that are so heavy and bulky is it really fair to call them laptops at all?
Asus's ROG GX700VO is a water-cooled laptop that has a docking station the size of a woman's large handbag. Then there is Acer's Predator 21 X gaming laptop that is as thick as a college textbook. Gigabyte goes for a more practical route with their P56XT, but who really wants to carry around a 6-pound unit in their backpack?
Gamers on a laptop have always puzzled me, even when I used to do it on my old Dell laptop. Yet that was a simpler time when games like Warcraft III weren't as demanding as GTA V. However, people still do it and manufacturers keep on making these monstrous machines.
Occasionally, I and my group of friends get together to meet in the basement of one of our homes to have our occasional LAN gaming party. We lack new games to play in the LAN because many games opt for multiplayer instead of local player, but we still have a great time doing it.
None of us shows up with a laptop; we arrive, sometimes in the cold of winter, with our full-sized gaming machines. Full blown desktop computers that we carry around with us: monitors, cables, accessories and all.
Once there, everything is fine and dandy, and we all have a great time. It's the act of packing up everything once more and hauling all of this equipment back out to the car. Then, to get home and having to set it all back up again.
Would a gaming laptop be better? Yes. Do I want to spend the ludicrous pricing for one? No.
What if we could have the best of both worlds? A mobile computer, that doesn't break the bank, and that you can hook up to your favorite monitor, keyboard, and mouse? Well, we can, with an Azulle Tech Mini PC.
This is the third Azulle Tech mini PC that I have reviewed, but this one is special. The first two computers were living room machines that were good for internet browsing and normal computer needs. Today, we have a barebones unit that can do full-blown gaming.
Dubbed the Inspire, this barebones computer comes fitted with a Kaby Lake Intel processor and a custom Azulle motherboard. Throw in an M.2 or full-sized SSD and some RAM and you can turn a tiny little box into a full computer.
With Windows 10 installed on my self-installed Samsung 950 EVO M.2 SSD and Kingston HyperX 16GB DDR4 memory, can the Inspire convince computer enthusiasts that it's up for the on-the-go gaming challenge? There is only one way to find out.
Welcome to my review of the Azulle Tech Inspire Barebones Mini PC.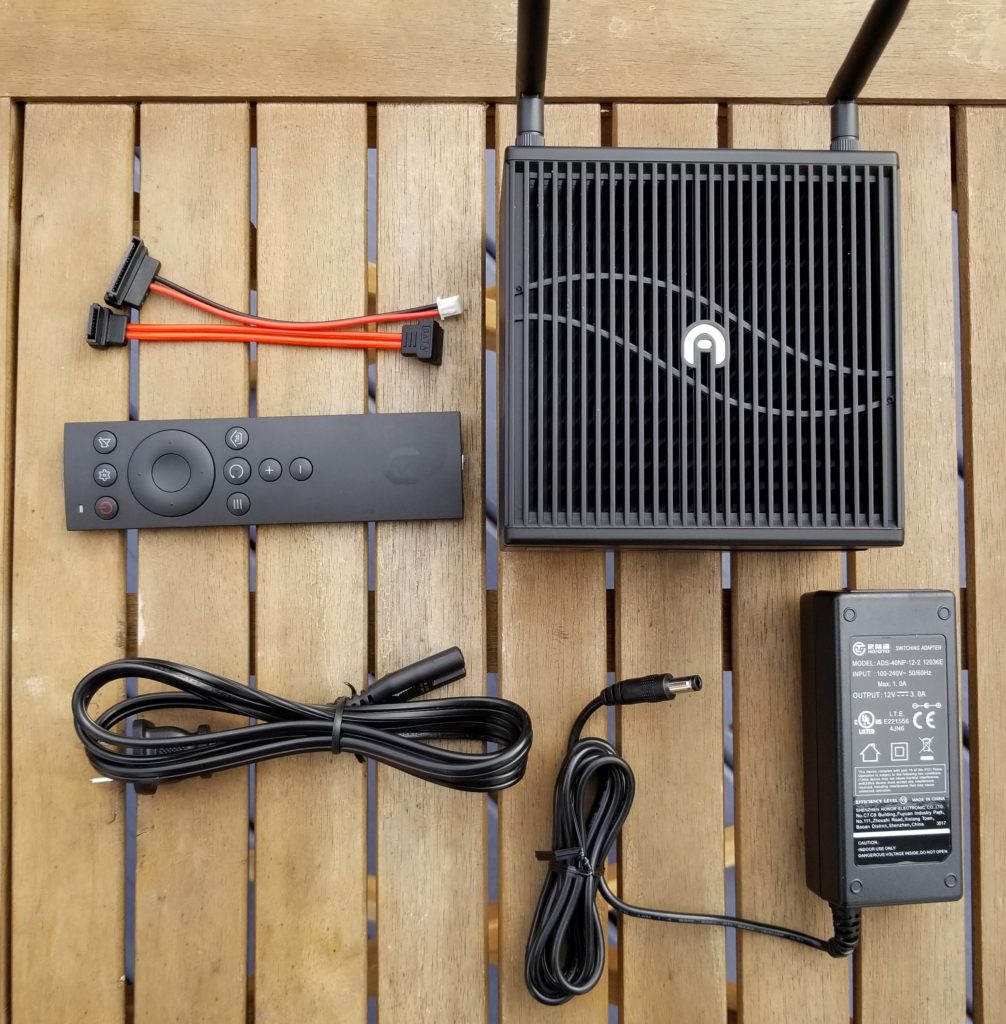 ​
Design
Having just reviewed
Azulle Tech's Byte3
and
Byte Plus Mini PCs
, the Inspire has a familiar look and style to it. Contained in a 5 x 5 x 2-inch box, this barebones computer is one that comes with only barebones equipment.
Depending on the purchased model, the Inspire will come with a dual-core Kaby Lake i3-7100U, i5-7200U, or an i7-7500U processor. This processor is preinstalled onto the Inspire's custom boxy motherboard.
What you'll need to include is an M.2 or SSD, some RAM, and an operating system. The operating system can be either Windows 10 or a flavor of Linux. Of course, going the Linux route would be free and save you a few pennies.
For a tiny computer, the Inspire is rocking a fair amount of usable I/O. On the front face, there is an IR receiver for the included remote, a USB-C port (this is great to have with more products slowly moving to USB-C), a 3.5mm headphone jack, a microSD card slot, and a full-sized USB 3.0 port. The front also contains the power button.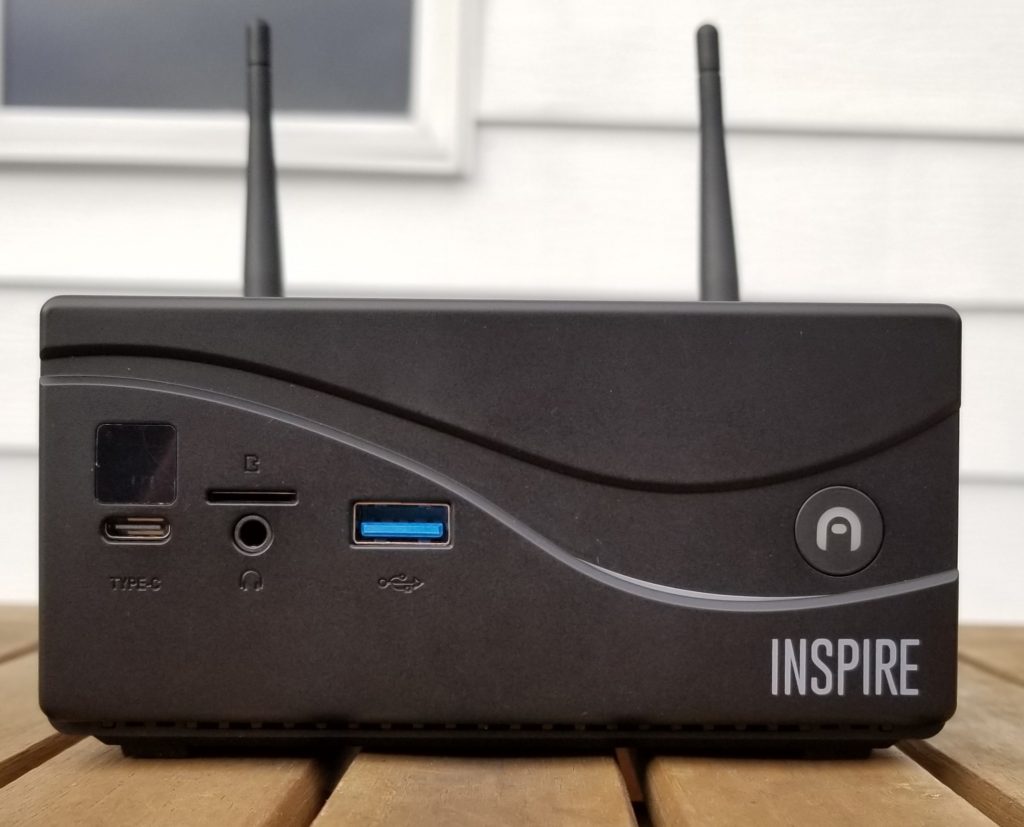 ​
The sides, bottom, and top do not contain any I/O and the rest is found on the rear of the unit. Back here is the 12V DC power input, a full-sized DisplayPort, a full-sized HDMI port, Gigabit Ethernet, two more full-sized USB 3.0 ports, a Kensington Locking jack, and a VGA output.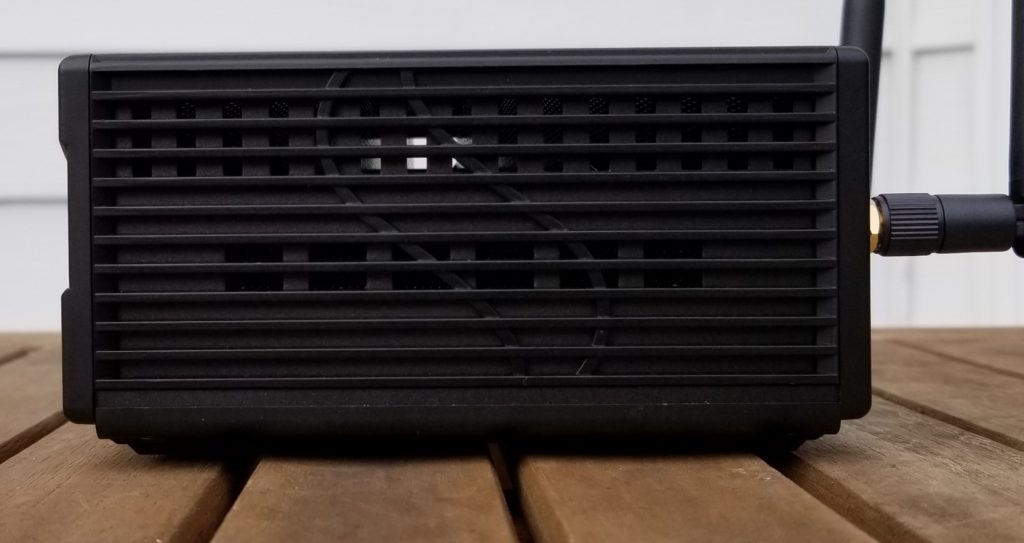 ​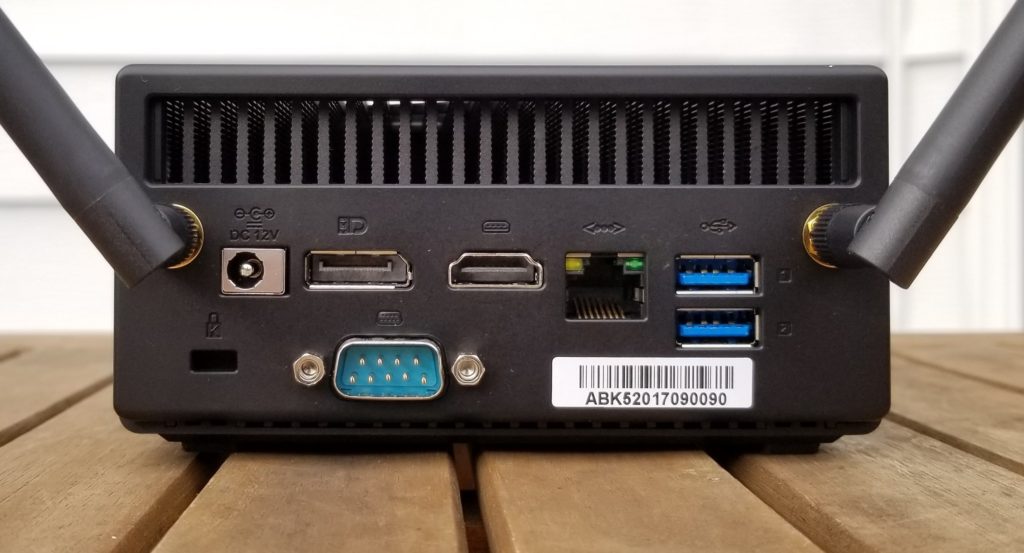 ​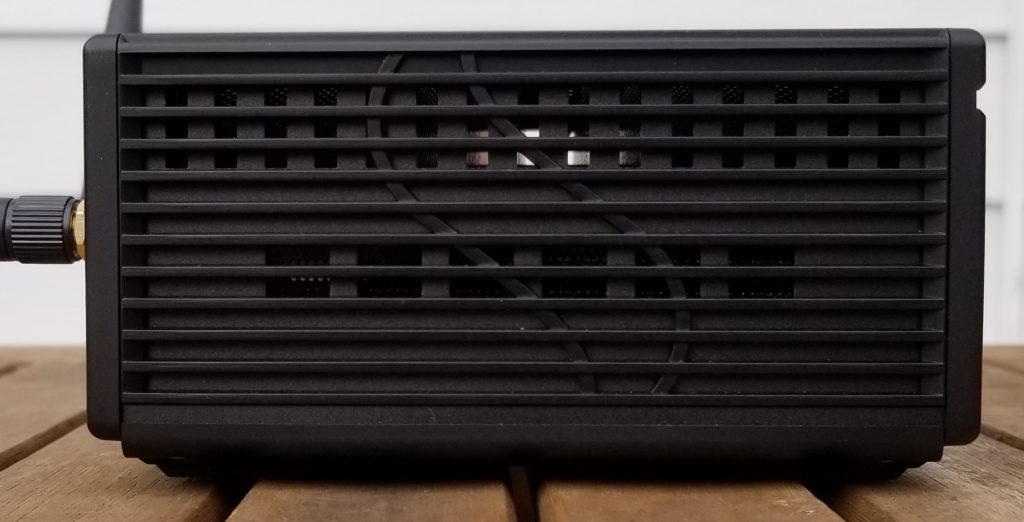 ​
Also found on the rear are two wireless antennas which stand up high into the sky or can be removed for a more aesthetic look and feel. Use them or toss them, it's pleasant that they have them at all.
This blacked out boxy designed Inspire is made from a mixture of plastic and metal with the plastic found all around on the outside and a metal frame inside to provide strength.
On every panel, except the front, there are these thick and open grates that act as airways for heat to be wicked away from the internal components, notably the processor.
There are no moving parts inside the Inspire, not even a fan to cool the Intel processor, so when everything is installed, it is perfectly silent.
To install your additional accessories, there are four Phillips-head screws on the bottom grate. Unscrewing these and taking off the grate reveals the insides. There are two SODIMM slots, but only one needs to populated for the system to boot.
If you install an M.2 SSD, then it connects directly to the motherboard. If you opt for a 2.5mm SSD, it needs to be mounted and screwed into the metal bracket. If you would like to, you could install both an M.2 and full-sized SSD. The installation of both is extremely straightforward and familiar to anybody with a little tech knowledge.
This all weighs just about a pound and can be held in the palm of your hand. If you have big pockets, you may be able to get it into a pocket too.
One thing that I disliked on my Byte3 review was the fact that Azulle put on a non-removable sticker onto the housing of the computer to warn users of the possible warm temperatures. The sticker returns for the Inspire and, once again, it too cannot be removed easily. I would very much so like to see a removable sticker for the next Azulle computer.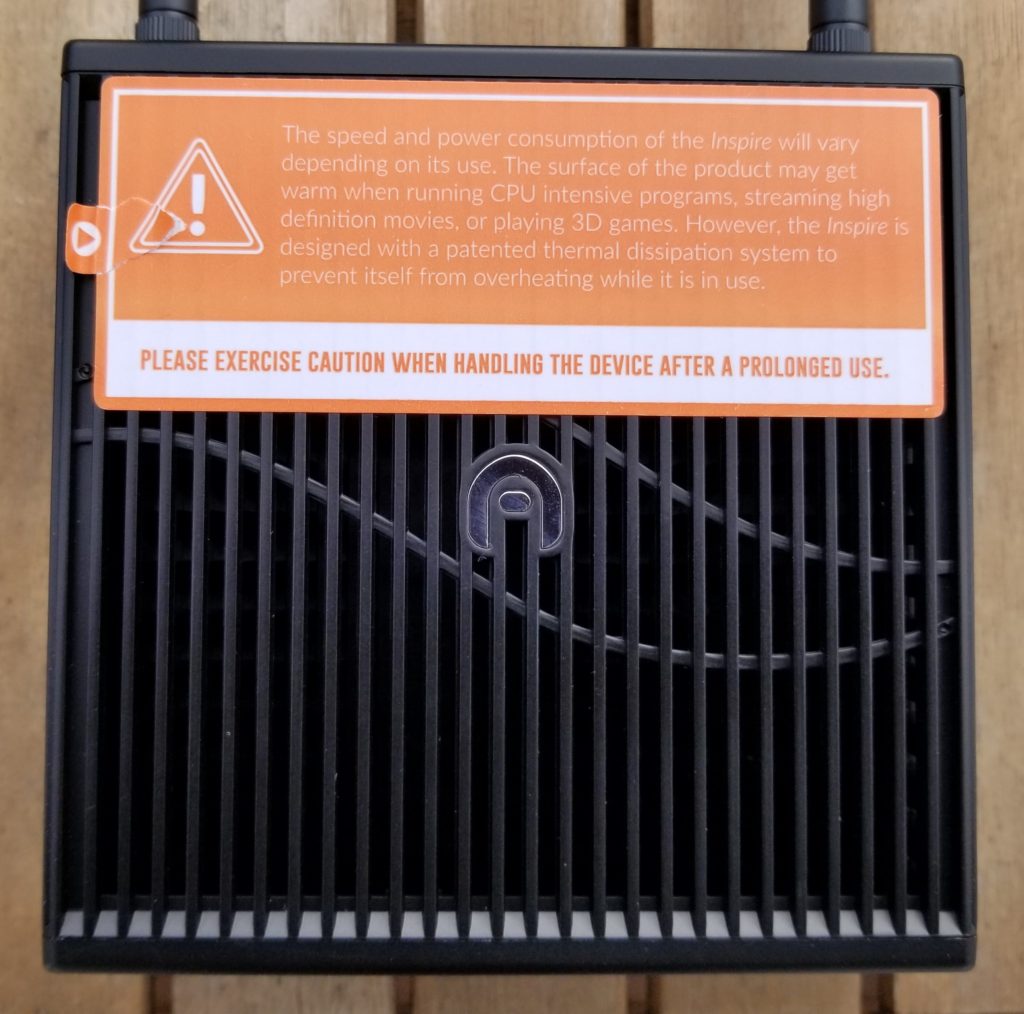 ​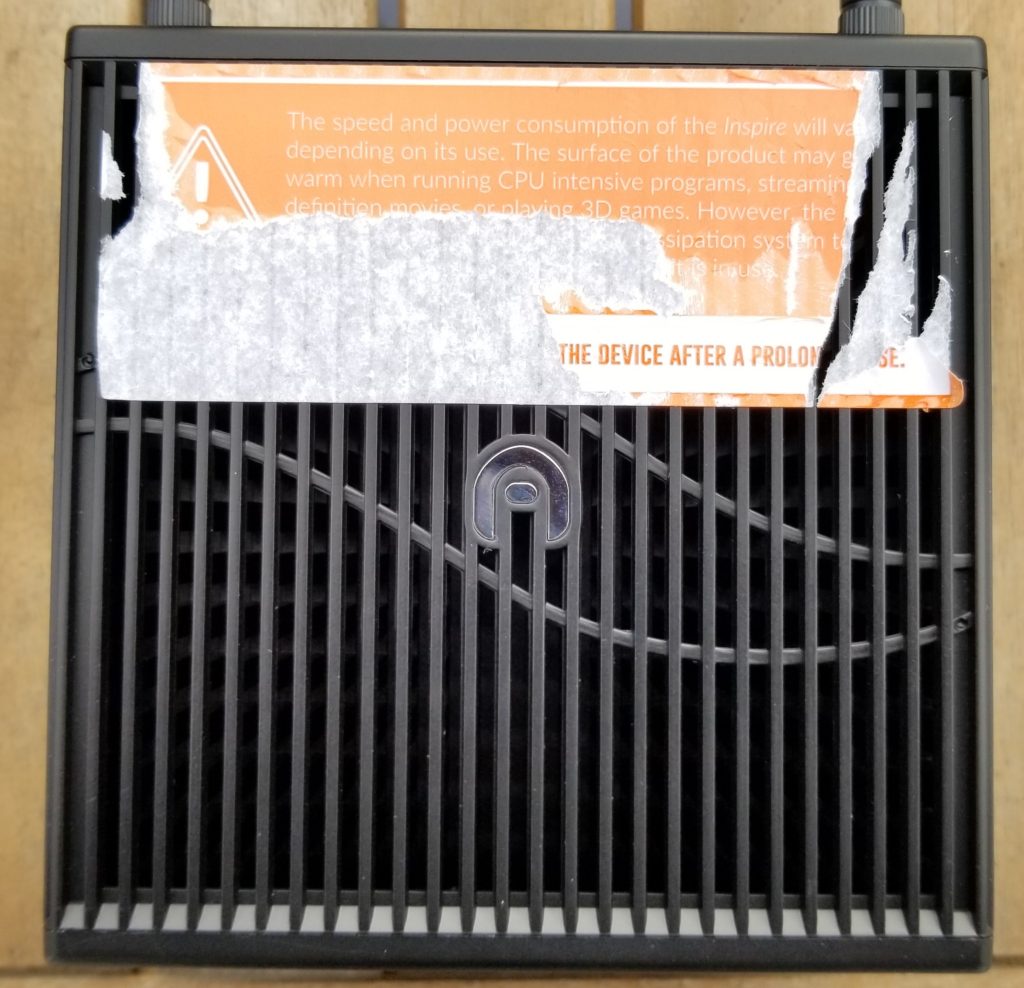 ​
What can certainly fit into your pocket is the included IR remote. Fitting into your hand quite well, the remote has functions for power, settings, mute, a control wheel, menu select, back, tab, and volume control.

​
Functionality and Performance
As mentioned earlier, you will need to select an operating system to run on the Inspire as it is a barebones kit. I opted to install Windows 10 64bit, but you can select a Linux flavor if you want to go the free route.
Before you even get to installing your operating system, a shout-out needs to be made to the BIOS. Yes, the BIOS is actually worth mentioning here.
It's an American Megatrends BIOS that contains every possible feature that you could need to access in a PC BIOS. It's not a UEFI, but this is the next best thing and I appreciate the work put into something that few people will ever notice.
Before getting through the synthetic benchmarking tests, I cruised around the computer as I would normally do with a computer. Browsing the internet, watching videos, and general office productivity were including in my common use tests.
From using Chrome to opening up multiple past reviews on the Inspire, the installed Windows OS operated like a charm and was snappy, smooth, and didn't show any signs of slowing down.
To continue on with my general use benchmarking, I opted to use Futuremark PCMark10 software. A tool that performs everyday tasks and monitors how well the computer does them. From video calling to internet browsing to office productivity, it will take what I saw in a normal view and produce a number that can be related to actual performance.
With PCMark10 chugging away at the computer, I felt the top of the plastic case and noticed it was just warm, not hot. For an air cooled i5-7200U, the processor kept its cool and still managed to spit out a decent score.
PCMark10 reported 3,175 in a final score, whereas my full-sized Desktop computer with an overclocked i5-4690k compiled a 4,424-final score.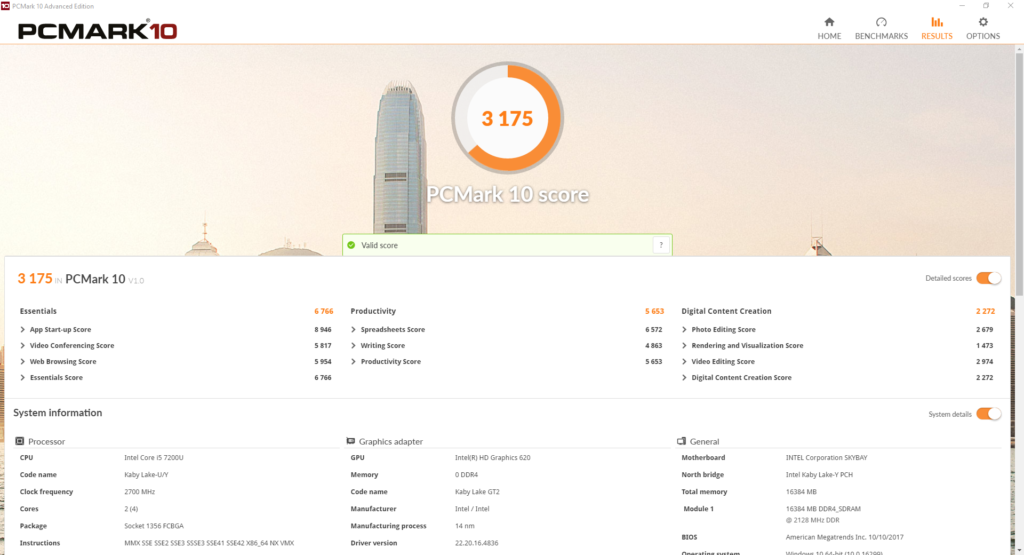 ​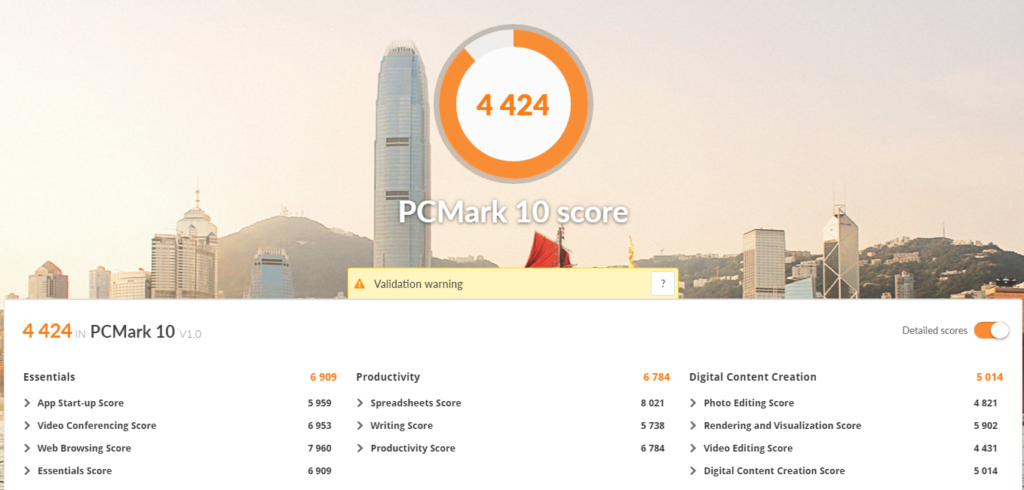 ​
From what I saw on the bench test and when using the Inspire, I was quite happy and impressed with the outcome. Using the Inspire in a college dorm or at your home office, this little PC does wonders at everyday usage.
Now, onto gaming with the Inspire. FutureMark's 3DMark was the synthetic tool used to test the computer's graphical handling. In the score outcome, I managed 357 in the Time Spy score. For comparison, my GTX 960 computer managed 2,530.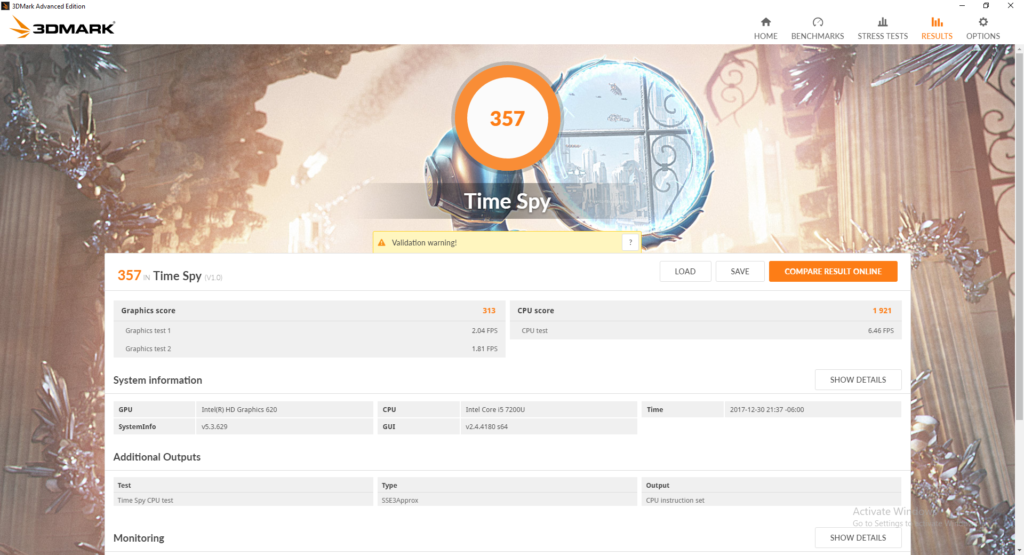 ​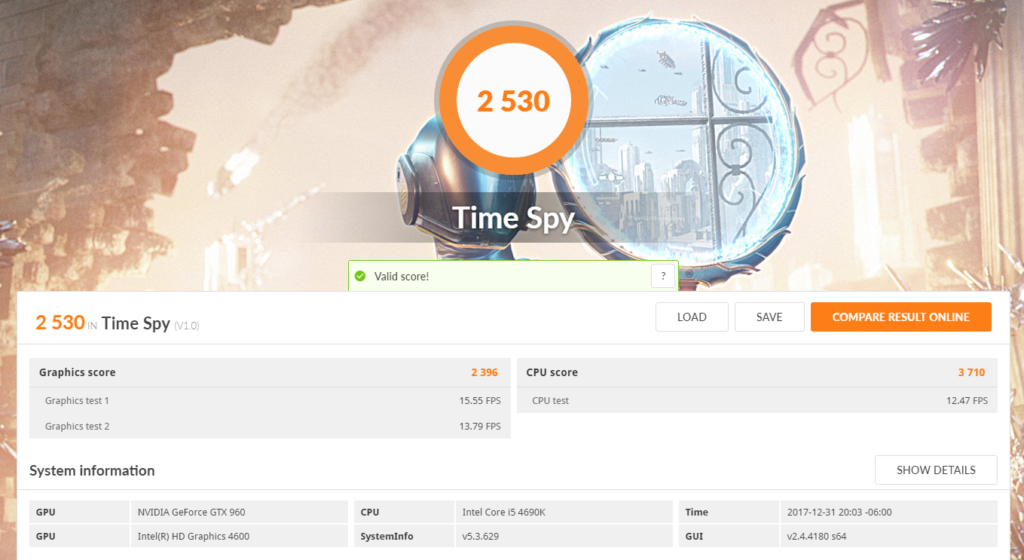 ​
Now, this may seem like a huge difference in score and viewing the two runs in real life did show the Inspire having a tough time in the benchmark, but the real-life usage of games told a different story.
I loaded up a game of Rocket League and put the settings on medium. I was easily able to play the game with no problem whatsoever. Other less demanding games like Chivalry: Medieval Warfare and Factorio also played great on this miniature PC.
For the LAN party games that we play, it was a great alternative to an expensive gaming laptop and to carrying around this massive hunk of metal that I call my main computer.
On the demanding games like GTA V, you could use Steam's in-home streaming tools. This would allow you to play high depending games on the comfort of your living room couch as another, more powerful, computer, plays them in the distance and then streams the content to the Inspire. With streaming, in-home gaming with the Inspire really becomes limitless.
As for general functionality, it comes with everything a user could need. Dual-band wireless, Gigabit Ethernet, Bluetooth 4.0, DirectX12, 4K HDMI and DisplayPort support, and the ability to stream video content at all resolutions.
With the Inspire in your living room acting as a streaming box, you can use their included IR remote mentioned earlier, or opt for
Azulle Tech's Lynk Multifunctional Remote
.
All in all, the Inspire is a doable little computer that really holds true to itself. It can do everything from everyday computer usage to light gaming. I am quite pleased and impressed with the functionality and performance of such a device.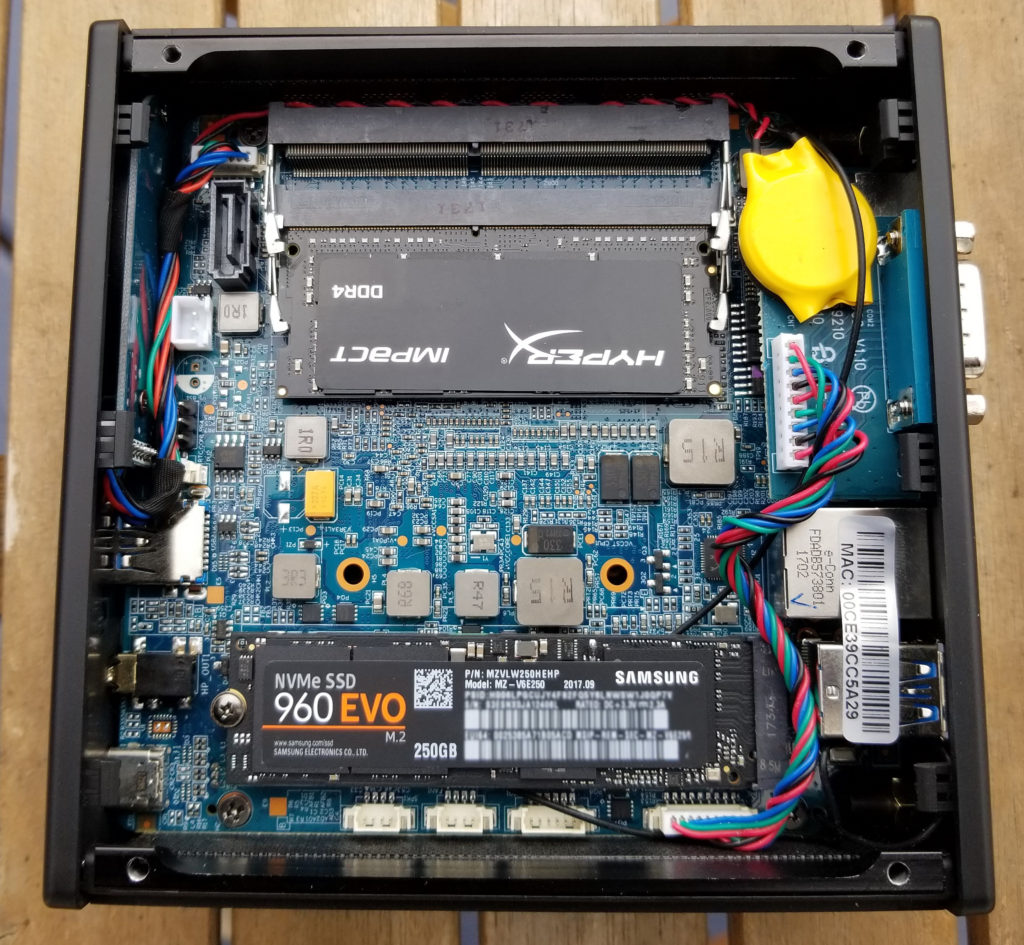 ​
My Final Thoughts
This model of Azulle Tech's Inspire is priced at $334.99. Include the SSD and RAM that I threw into my unit and the total cost comes out to $660 ($128 for the Samsung M.2 and $197 for the Kingston RAM). This still doesn't include Windows 10 which is another $109 for an OEM license.
A base price of $660 puts this Inspire in competition against low-end gaming machines and to me, that seems fitting. It's a whole lot of money for somebody to put out for a computer with not a lot of mainstream support, but it's a computer that does everything that its full-sized competitors do.
While costs can be saved by getting the i3 variant and using two 8GB slots of memory, I find that my configuration is the sweet spot for performance per dollar.
Azulle Tech once again has impressed me with their miniaturized computer and the Inspire is the top of the line when it comes to these machines. It performed flawlessly and had no faults while I was using it. While it may be a little pricey, I would still recommend it to those looking for a PC that can travel or want something really small for the office; just make sure you also have a portable monitor nearby.
Buy it now:

​
© 2018 Justin Vendette