hello, sorry for my first post being a tech support question.
im not exactly skilled with computers, but i know enough to keep my computer working.
now in my home i have 1 laptop (my roommates) running windows xp, my cell phone (a G1, android mobile), and my laptop running windows 7.
the laptop is barely 4 days old
originally i had a different laptop, still an Asus, but my wireless card wasnt working very well, i took it in to best buy and they verified it was not working and exchanged me with a new asus laptop. But long story short i had internet problems on that laptop, i could not stay connected to the network, while my roommates laptop, running windows xp, never gets disconnected, my cell phone also never gets disconnected.
however my windows vista laptop would get disconnected often, and it would be extremely difficult to reconnect, sometimes i needed to restart my laptop to reconnect.
so i exchanged it.
this new laptop has the latest drivers, its running windows 7, and its an asus laptop. I have a few problems with the internet but my most common problem is this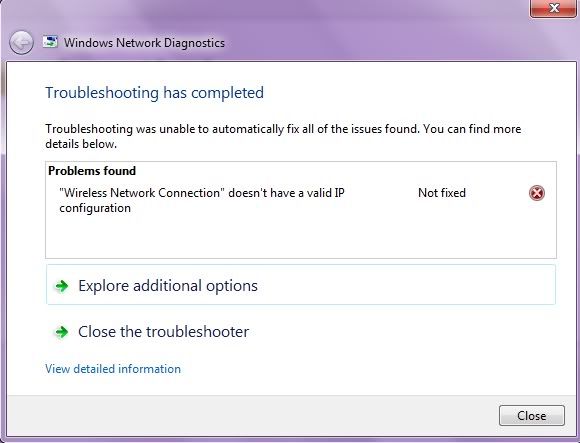 after so many tries of pressing troubleshoot it'll finally get through this and say fixed instead of not fixed and i'll be able to access the internet (sometimes only for a few minutes, sometimes longer)
i'm not good enough with computers to know how to fix this, or know expert computer jargon that people seem to spew, however i have searched google for people with similar problems to no avail.
the signal is fine, i just often cannot connect. My roommates laptop can connect just fine, often troubleshooting doesnt work until the 5/6th try
i spent 3 hours this morning resetting my laptop and troubleshooting over and over while i was on the phone with tech support for Asus (whom btw, only made my problems worse, that i had to personally repair)
their resolution? "your still within your 14 days go return it for another asus laptop"
so i respond "if i have to return my 2nd asus laptop, i will not be getting another asus, ever again"
the reason i chose this laptop is because it was supposedly the best that best buy had for gaming.
so my last laptop running windows vista had trouble connecting, my current laptop running windows 7 has trouble connecting, they're both Asus laptops, and i believe their network cards are pretty close to the same, the network card im running is
Intel(R) WiFi Link 5100 AGN
Realtek PCIe GBE Family Controller
(not sure if i should include both, i dont really know what the 2nd one is)
my driver is 12.4.1.11 for the intel wifi link
I'm sure i've left out some information you guys need, so if theres anything else i need to include please let me know what it is, and where to find this information?
oh i am on Windows 7 64 bit
my laptop is an Asus G60vx
i tried looking on the support.asus.com to make sure i have the latest driver and it looks like i do
and this is copy and pasted from another section, apparently i posted in the wrong section, sorry about that :x