Often, people find it strange that I don't enjoy superhero movies. Superman, Batman, Avengers, and the rest aren't what I normally enjoy in a movie. My favorites are more Sc-fi or storytelling focused ones. With that said, what I do find interesting is seeing what goes on behind the scenes in superhero movies.
As cool as it is to see explosions and the heroes running over the tops of cars through the city, the reality of it is that almost everything shown in movies nowadays is green-screened. Behind the scenes of making a movie relies on the actors jumping from green box to green box as they pretend they are cars flipping over in midair.
To capture those epic moments, you always see those long camera boom arms quickly moving around either a moving object such as a car or a stationary mount in a large warehouse.
Because of those long reaching camera arms, the movies that we watch today are smooth and fluid as the camera perfectly captures the actor jumping around or attempting to weave in and out of traffic as they escape the police. Take a look at what I mean here:
These smooth recording arms are called gimbals, a pivoting three-axis device that can keep an object, such as a camera, perfectly stationary while three other acting arms move around the object to control pitch, roll, and yaw.
Think about all of those Facebook and YouTube videos where the video is shaky, but you watch it anyways because the content is interesting and intriguing. We humans do not have arms stable enough for video recording and as most of us are using a smartphone for video recording, the tiny smartphone camera cannot compensate for the hand movement.
Luckily, that professional movie gimbal equipment isn't out of consumer reach, and it won't break the bank either.
A solution is provided by the Chinese company, Zhiyun, a newer company that specializes in gimbal equipment. Making handheld gimbals for both small and large DSLR cameras, GoPros, and smartphones, these devices are smooth recording masterpieces that turn your average video into a professional one.
Today, we take a look at the Smooth 4, a handheld, smartphone gimbal stabilizer that pairs with an iPhone or Android smartphone over Bluetooth and captures video on a custom Zhiyun application. With my Galaxy S8+ smartphone strapped to the Smooth 4, let's go out on an adventure and discover the Smooth 4's smoothness.
Welcome to my review of the Zhiyun Smooth 4 gimbal stabilizer.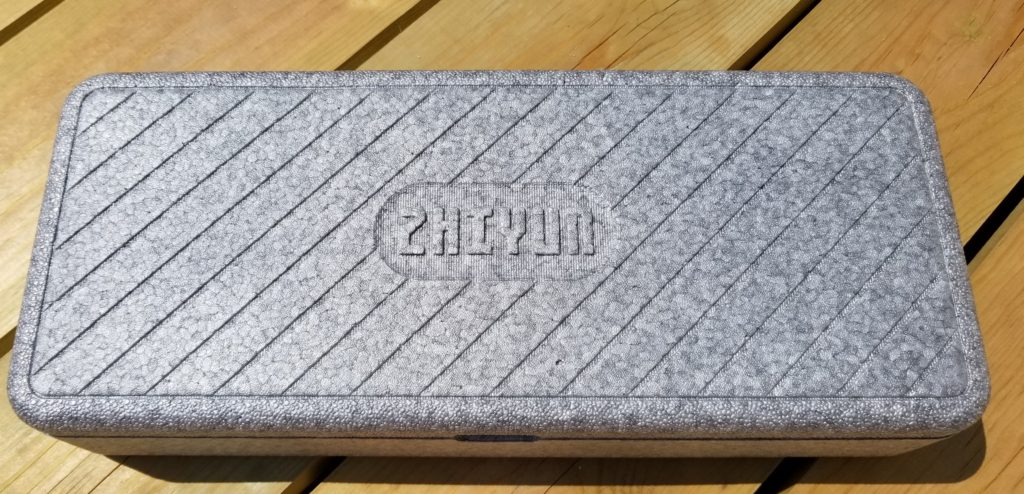 ​
Design
Right now, in the United States, there is a lot of talk around trade specifically with China. As China has become a large manufacturer of US goods, there are a lot of Americans who have both a positive and negative experience with Chinese goods.
Often, it is said that if a product is made in China "it simply cannot be good enough". Zhiyun's production of the Smooth 4 completely contradicts that comment.
I have been reviewing for a long time now, and the Smooth 4 may possibly be one of the most well designed and most well-built products I have ever reviewed. Beginning with the Smooth 4's travelling case, Zhiyun provides a foam-like ridged case that both the Smooth 4 and its attachment are securely placed into.
The case's material may be a step up from Styrofoam, but its strength and weight are equivalent to plastic.
Moving on to the Smooth 4 itself, the building material of the gimbal is a sturdy thick plastic that is used throughout the Smooth 4. Its plastic body feels premium in the hand while remaining light and rigid.
All blacked out, the Smooth 4 is a solid unit that could convince people that it was built here in the US by how well it feels and the attention to detail.
At the top of the Smooth 4 are the gimbal portion and the clamping mechanism for your smartphone. As you cannot use a case on your smartphone while using the Smooth 4, Zhiyun added thick gray rubber pads to any place the Smooth 4 touches your smartphone.
To accommodate all sizes of smartphones, the two body clamping arms extend outwards and force themselves closed onto your smartphone. I find that the clamping mechanism is a tad strong, but it's not enough to damage your smartphone. It's only strong in the sense that it's not as easy to place your smartphone into the holder.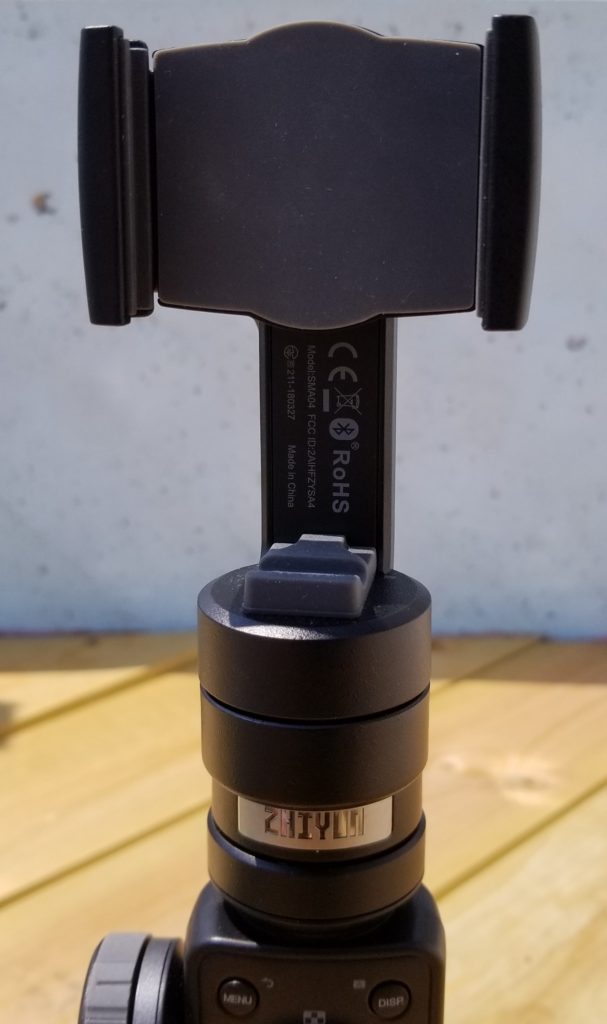 ​
Seeing that a lot of smartphones now have a glass back, Zhiyun also puts a large rubber pad on the back portion of the smartphone holder to prevent scratching or damage to a glass back.
As a handheld device, you grip the Smooth 4 on the lower portion of the body with either hand. While gripping, your thumb has access to the Smooth 4's full one-handed user interface.
The interface on the Smooth 4 connects to the iOS or Android smartphone application that gives you control over the smartphone's camera settings.
With the press of a button, your thumb can access a menu, change the display type, zoom, focus, record, capture, playback, adjust white balance, and every other application action. More on all of this later.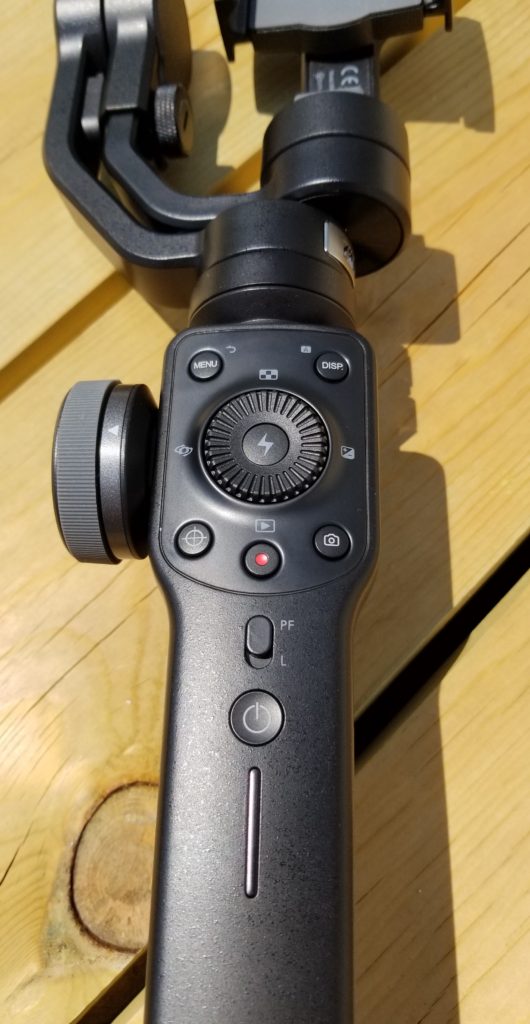 ​
On the backside of the handheld portion of the body are two buttons that will tilt the smartphone or allow you to initiate Phone-Go mode which will be discussed later on.
There are a lot of features that are coming up on the Smooth 4, but a sneak peek of one is that the Smooth 4 can take a time-lapse video. As you won't want to hold the Smooth 4 for a long time-lapse, Zhiyun includes a removable stand for the Smooth 4.
With three rubber-footed legs, the Smooth 4 can securely and smoothly stand tall or far out on a desk or a slightly off-kilter surface.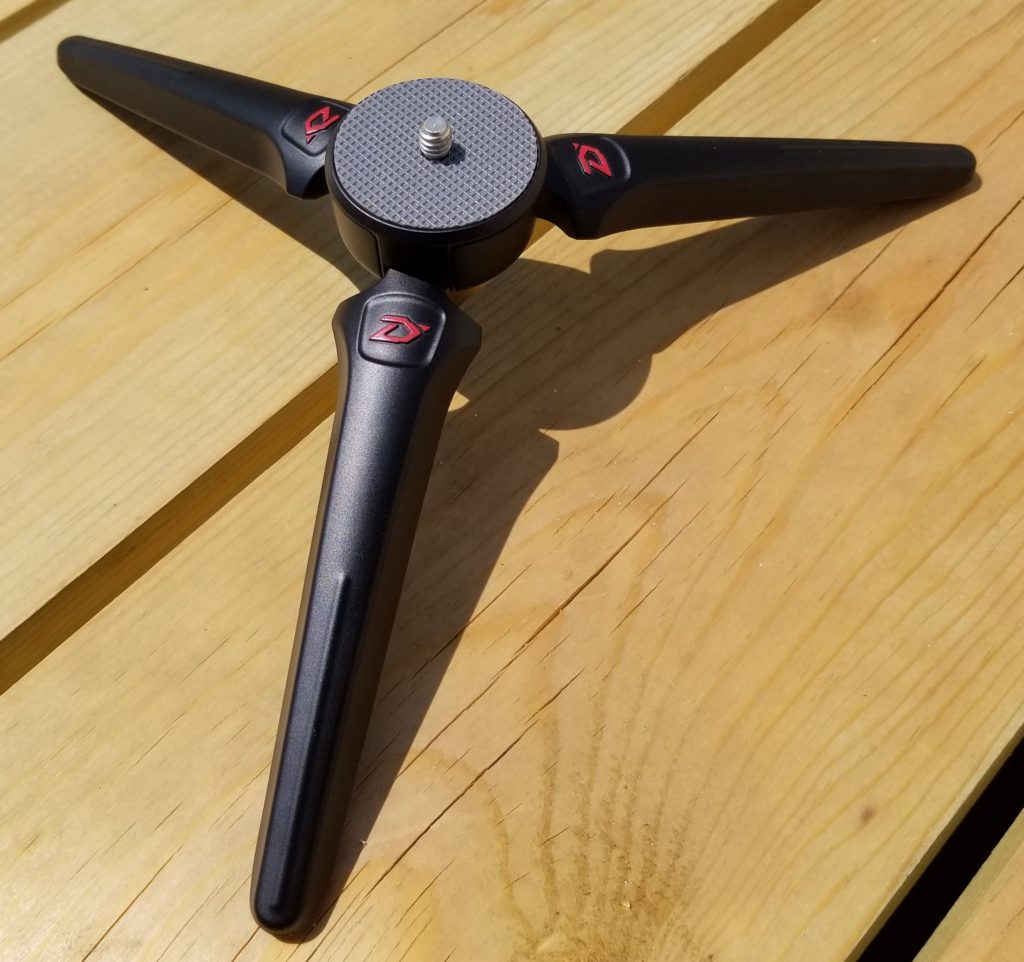 ​
Being a handheld mobile device, the Smooth 4 has an internal battery for its gimbal actions. Seeing that it's a new premium product, it's powered over USB-C and comes with a USB-C to USB-A flat cable. Furthermore, you can opt to leach off the Smooth 4's internal battery to charge your smartphone.
Unfortunately, the charging port to leach off of is a microUSB port, meaning you will need a custom cable, such as
this one
.
The Smooth 4 is a fairly heavy device. There are a lot of electronics, batteries, and motors packed into a slim vertical body, and at times I found it to be a strain to hold for a very long recording session. Of course, different people will vary with this, but it's something you'll have to adjust your arms to if you plan on recording a lot.
All in all, the design of the Smooth 4 is well done. It's well built, sturdy, premium looking and feeling, and the one-handed operation makes using the Smooth 4 a dream. From the travel case to the stand, Zhiyun made a product that feels and seems like it was made here in the US.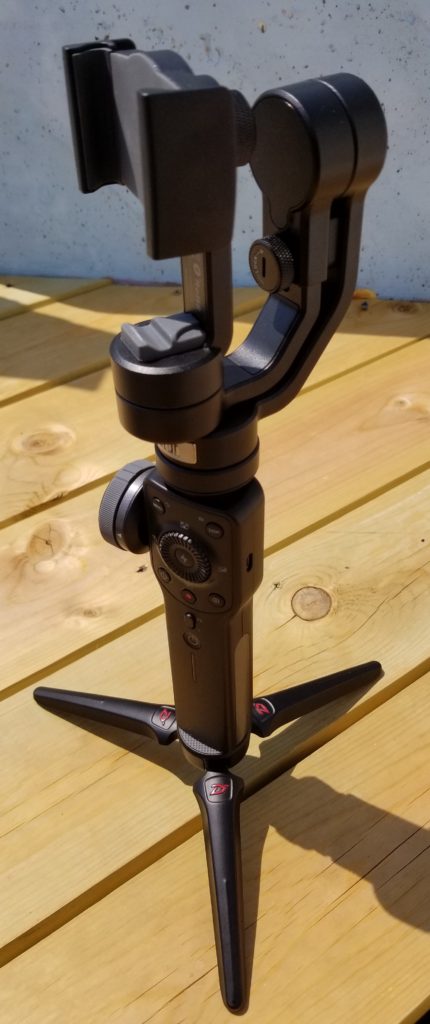 ​
Functionality
The 3-axis handheld gimbal supports a plethora of phones including the bigger ones such as the iPhone 8 Plus and Samsung Galaxy S9+.
To get started, you need to install the Zhiyun Play application for iOS or Android. Unlike other applications, there is no account or device registration needed with this app. You are taken to the home screen which displays all of Zhiyun's products, of which the Smooth 4 is first on the list.
​

​
Your smartphone connects to the Smooth 4 via Bluetooth, so, first time users will need to pair their device with the Smooth 4. Once the devices are paired, you'll want to power down the Smooth 4 to balance the gimbal to your smartphone.
Found on the stabilizer section of the gimbal are your 3-axis motors as well as adjustable arms. Place your smartphone (without its case) inside the gimbal's clamp and push the stabilizer arms so that the smartphone is in a vertical position.
Once in a vertical position and the Smooth 4 is off, adjust the two nobs on the stabilizer so that the smartphone remains level on its own. It's okay if you aren't perfect with the leveling of your smartphone. The Smooth 4's motors are quite strong and will adjust for an off-balance smartphone.
Turn on the Smooth 4 and make sure everything is paired and you can now operate the Zhiyun Play camera.
Unfortunately, there is very little guidance on how to use the gimbal, but don't worry, getting used to its controls is easy once you understand its movements and buttons. I already mentioned what each button does, but as a reminder, use this guide below.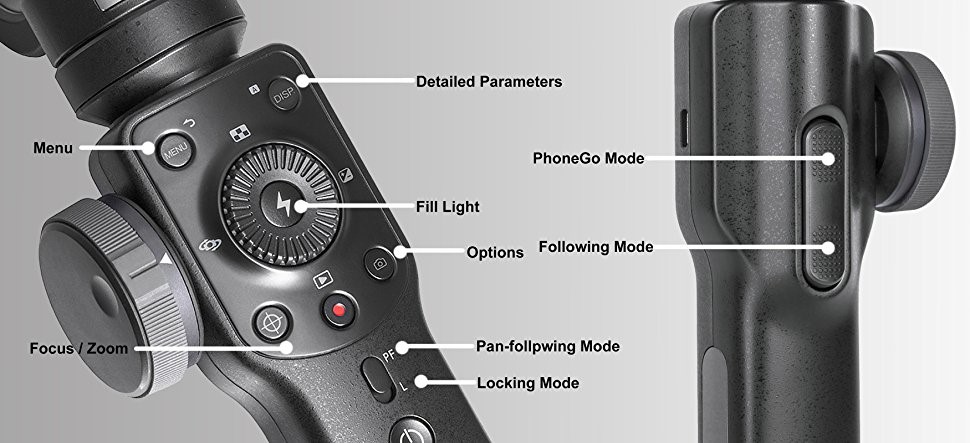 ​
To move your smartphone from left to right and vice versa, first make sure the adjustable switch is in Pan-follow Mode. Then, you hold the gimbal in your hand and twist your hand either left or right. Slowly, the gimbal will adjust the smartphone either left or right depending on your hand twisting.
For horizontal movement, you hold the Following Mode rear button and then with your hand either pull up or push down on the gimbal's handheld body. Similar to a helicopter joystick for flying.
If you've gotten the smartphone in a weird position and are having trouble getting it back to normal, just quickly double press the Following Mode button, and the gimbal will revert to normal. Unfortunately, I find the gimbal looks a tad too high for "standard mode", so, I often tilt the smartphone slightly down to get a more level video/picture.
As for the rest of the buttons, they are as easy as you want them to be. You can press all of them with your thumb, and it becomes muscle memory once you learn what each one does. Or you can always use your smartphone's touchscreen to access menus and settings on the Zhiyun Play app.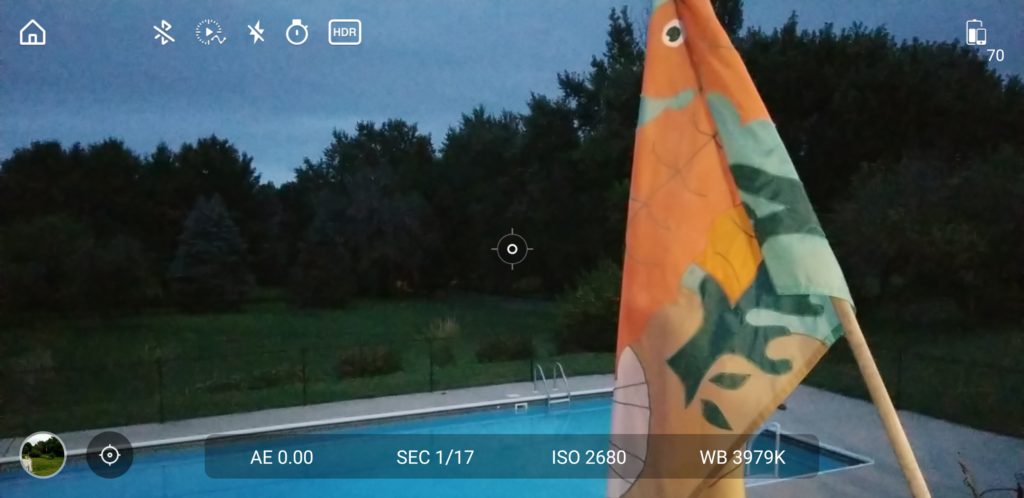 ​
After practicing, I would say that it took me about 20 minutes to become comfortable in using the Smooth 4 and having the feeling that I was in control. It is best practiced outside or where you have a lot of room to move around or have a lot of light for the camera to see, which then makes for a clearer video.
The next challenge is to capture PhoneGo Mode which makes your vertical and horizontal movements instant rather than a slower pan of the smartphone. Or you can use that adjustable switch to enter Locking mode to lock the smartphone on a center point.
No matter how much you shake or turn (to an extent), the gimbal will keep the smartphone's camera locked to a center point. Similar to you moving your head, but locking your eyes to something in front of you.
As I mentioned, everything will be done on your smartphone using the Zhiyun Play app and knowing this, Zhiyun clearly put some thought into the application. From my experience, the app is far better than the built-in Samsung camera application.
The app allows you to alter every aspect of the smartphone's camera such as white balance, HDR, scene, timer, flash, and resolution. From there, settings be adjusted for recording quality, panoramic timers, and whether you are recording slow or fast objects.
We know that video can be recorded using the gimbal, but pictures, time-lapses, vertigos, slo-mo, 3x3 panoramic pictures, and 180-degree panoramic pictures are all options too.
While I used all of the available shooting modes, I stuck with recording video and pictures. Beginning with video, everything is incredibly smooth. You can shake the gimbal, move up, down, left, right, and the smartphone's camera barely shows the movements.
All of the imperfections from my handholding of the gimbal suddenly disappear, and it looks like a professional video that I could publish on YouTube. Take a look at the video I recorded using my Galaxy S8+ on the Smooth 4. I attempt to add additional shakiness.
Likewise, here is a recording of me holding the Smooth 4 from a third person view to show how the gimbal stabilizes the smartphone.
Another video aspect that I took advantage of was the Smooth 4's time lapse. You choose two points in space that the gimbal can see and record their positions. Then, set the timer for how often it should move and record. Over a preselected time, the gimbal moves the camera from point A to point B.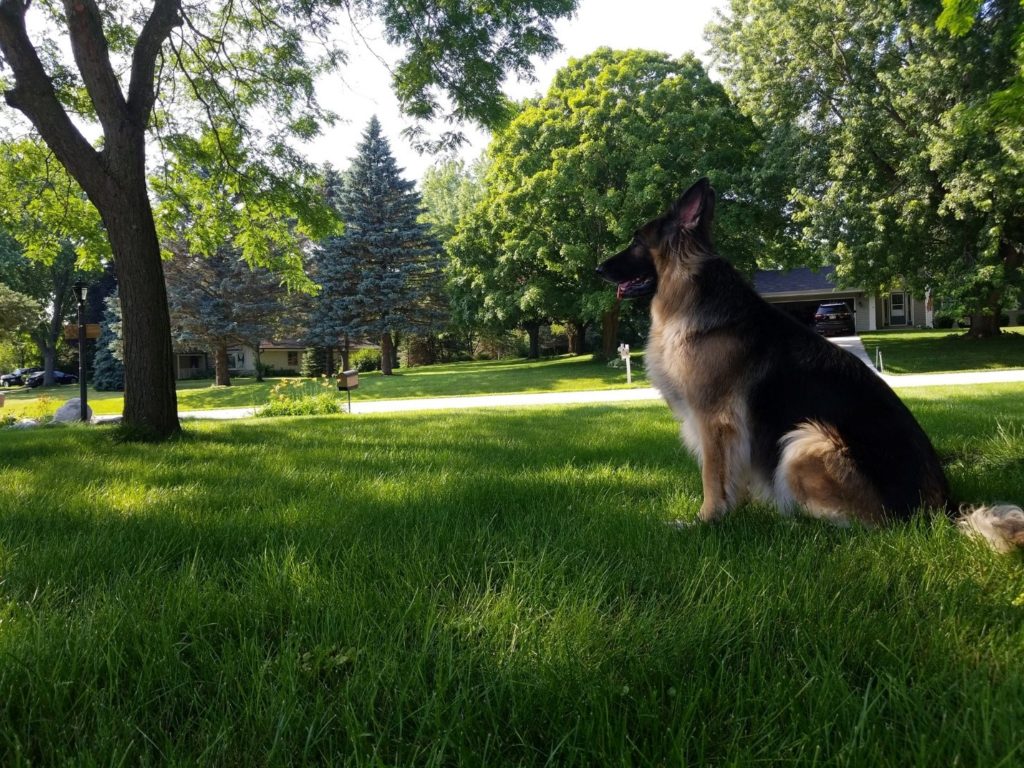 ​
Lastly, images look clear and crisp. You line up your smartphone's camera and snap the picture. This, like the recordings, of course, depends on the smartphone in use, but I would say it turned out quite well as shown below.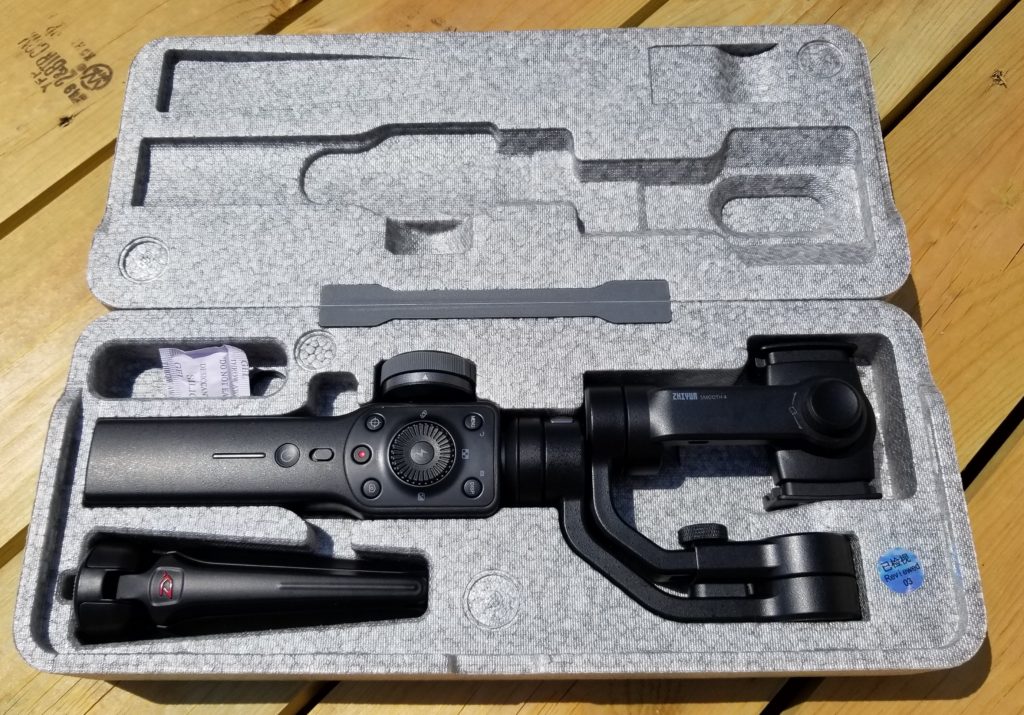 ​
My Final Thoughts
For what the Smooth 4 offers at a reasonable $139, it's truly amazing how I haven't seen more gimbals out in public. After the slight learning curve, I felt like a videography master who could record smooth, clear, and professional videos.
The design of the Smooth 4 is superb with its well-built frame, easy handholding body, and attention to detail such as the rubber pads that protect your smartphone. Following the design, actually recording content was a breeze, and the Zhiyun app makes things a lot easier.
This may seem like a niche product, but I found myself wanting to grab it for an outdoors trip or to have it out by the water to record a smooth slow action time lapse. For this price, I can easily recommend the Smooth 4 and would say that anyone who decides to pick one up would definitely enjoy it.
Stay tuned as Zhiyun is coming out with new products in 2018! Zhiyun has plans for the advanced users with their CRANE 3 LAB and Weebill LAB gimbals that take videography to a whole new level. We look forward to seeing and hearing more as September approaches quickly.
Buy it now:

​
© 2018 Justin Vendette