Hello and welcome to TSF.
Please
Subscribe to this Thread
to get immediate notification of replies as soon as they are posted. To do this click
Thread Tools
, then click
Subscribe to this Thread
. Make sure it is set to
Instant notification by email
, then click
Add Subscription
.
Please save this page to
Notepad
in order to assist you when carrying out the following instructions.
Before beginning the fix,
read this post completely
. If there's anything that you do not understand, kindly ask your questions before proceeding.
Ensure that there aren't any opened browsers when you are carrying out the procedures below.
It is IMPORTANT that you don't miss a step & perform everything in the correct order/sequence.
------------------------------------------------------
Please note that these fixes are not instantaneous. Most infections require more than one round to properly eradicate.

Please stay with me until given the 'all clear' even if symptoms seemingly abate.
Kindly follow my instructions and please do no fixing on your own or running of scanners unless requested by a helper.
------------------------------------------------------
Please explain why you have no antivirus program installed and running on this system. This is an open invitation for infection and likely why you are here.
------------------------------------------------------
Please uninstall the following via Start->(or My Computer)->Control Panel->Add or Remove Programs if it still exists:
Viewpoint Media Player
<<This is considered foistware instead of malware since it is installed without users approval, but doesn't spy or do anything "bad". Please read
here
and
here
If you decide to uninstall it, also delete the following
Folder
if it still exists:
C:\Program Files\
Viewpoint
------------------------------------------------------
I see you have
Weatherbug
installed on your system. This application is not spyware but is ad-supported, containing both banner and pop-up ads. Please read
here
Although this is entirely up to you, we recommend uninstalling it and downloading an ad-free alternative from
here
or
here
------------------------------------------------------
I see you have
P2P
software (
Azureus Vuze and Limewire
) installed on your machine. We are not here to pass judgment on file-sharing as a concept. However, we will warn you that engaging in this activity and having this kind of software installed on your machine will always make you more susceptible to re-infections. It may be contributing to your current situation.
This page
will give you further information.
Please note: Even if you are using a "safe" P2P program, it is only the program that is safe. You will be sharing files from uncertified sources, and these are often infected. The bad guys use P2P filesharing as a major conduit to spread their wares.
References for the risk of these programs are
here
,
here
, and
here
.
I would strongly recommend that you uninstall them, however that choice is up to you. If you choose to remove these programs, you can do so via Control Panel >> Add or Remove Programs.
If you decide to uninstall Azureus Vuze and Limewire, also delete these
Folders
if they still exist:
C:\Documents and Settings\Allen\Application Data\
Azureus
C:\Documents and Settings\Allen\Application Data\
LimeWire
C:\Program Files\
Azureus
C:\Program Files\
LimeWire
------------------------------------------------------
Please visit this webpage for instructions on downloading and running ComboFix:
http://www.bleepingcomputer.com/combofix/how-to-use-combofix
Please ensure you read this guide carefully and install the Recovery Console first.
The Windows Recovery Console will allow you to boot up into a special recovery(repair) mode, if needed. This allows us to help you in the case that your computer has a problem after an attempted removal of malware. It is a simple procedure that will only take a few moments of your time.
As part of installing the Recovery Console, ComboFix will begin to run. Follow the prompts to install the Recovery Console. Your desktop may disappear. This is normal. It will return.
Once the Recovery Console is installed, this blue window will appear: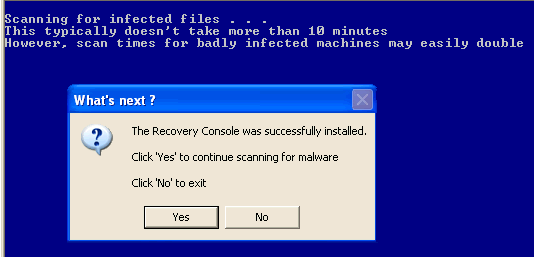 Please continue as follows:
Close/disable all antivirus and antispyware programs so they do not interfere with the running of ComboFix. Get help here
Please click Yes to continue scanning for malware.
When the tool is finished, it will produce a log for you.

Please post that log,

ComboFix.txt

along with a new

HijackThis log

so we may continue cleansing the system.

------------------------------------------------------

Please download

HijackThis

and Save it to your Desktop.

Alternate link

This program will help us determine if there are any spyware/malware on your computer. Double-click on the file you just downloaded.

Click on the "Unzip" button to install. It will by default install to the directory - C:\Program Files\Trend Micro\HijackThis

Upon install, HijackThis should open for you.

Should it not open, navigate to C:\Program Files\Trend Micro\HijackThis and double-click on HijackThis.exe

1. If it gives you an intro screen, just choose 'Do a system scan and save a logfile'.

2. If you don't get the intro screen, just hit Scan and then click on Save log.

3. Please post the

HijackThis log

in your next reply. Do not fix anything in HijackThis since they may be harmless.

------------------------------------------------------

Please post the following in your next reply:



C:\ComboFix.txt
new HijackThis log

If you have any questions along the way...STOP and ask them before proceeding.