There are still a lot of companies in the United States that are heavily focused on manufacturing even though a lot has been outsourced. Towns, cities, and households still rely on one centralized manufacturing plant that keeps them going.
Manufacturing businesses are not focused on technology. Instead, they are focused on production and how fast they can get their product out the door. The company that I work for is owned by a manufacturing company, and it's clear that technology to them is an afterthought; only making the product and staying current is their goal.
Even though they aren't technology focused it doesn't mean they stay in the past and do things with pen and paper or slip past by emailing everything back and forth to coworkers. We are in the technology era where we can share and store anything we want.
My company's parent company is not going to spend a million bucks on top-grade technology equipment as they have no use for it. Instead, like a lot of companies nowadays, they have a small server closet with modest air conditioning that houses some networking switches and one lone Network Attached Storage (NAS) server.
A problem in the technology world is that tech is often made as one model. When purchasing a car, you can choose the base model or add-in packages to make the car more customized to your requirements. Whereas for technology, if you need a NAS, chances are you are going to be buying an expensive rack mounted unit that needs to be stored in a server room and screwed into a rack.
Another problem with technology equipment is when a company wants everything a NAS can offer but doesn't have the space to store a full rack-mounted system, as they are often tall and lengthy.
When the now-popular YouTube Technology channel,
Linus Tech Tips
, were first beginning their business adventure, their "
room[/URL] " was housed in an everyday home bathroom with their expensive NAS resting on an active bathroom sink. ​
Storage is cheap nowadays. NAS-ready hard drives are pennies to businesses, and many consumers have the available cash to purchase the drives for themselves. All that is needed is the device to hold it all.
Specializing in storage devices, Synology has become a fascinating brand to follow over the past few years. They are the go-to NAS provider for consumers looking to store computer backups and run a Plex server, while also taking on the big storage giants in the business market, such as Dell and HP.
Having this hybrid background of tending to the needs of consumer and business, Synology can take the best of both worlds and create a product that can be used anywhere, by anyone, and meet people's requirements.
At the top of its class, the all-new Synology DS1618+ NAS is a 6-bay box that contains the raw performance of a rack-mounted NAS by being small and light enough to be held in two hands. Join me as we take a look into what is a new wave of storage equipment.
Welcome to my review of the Synology DS1618+ NAS.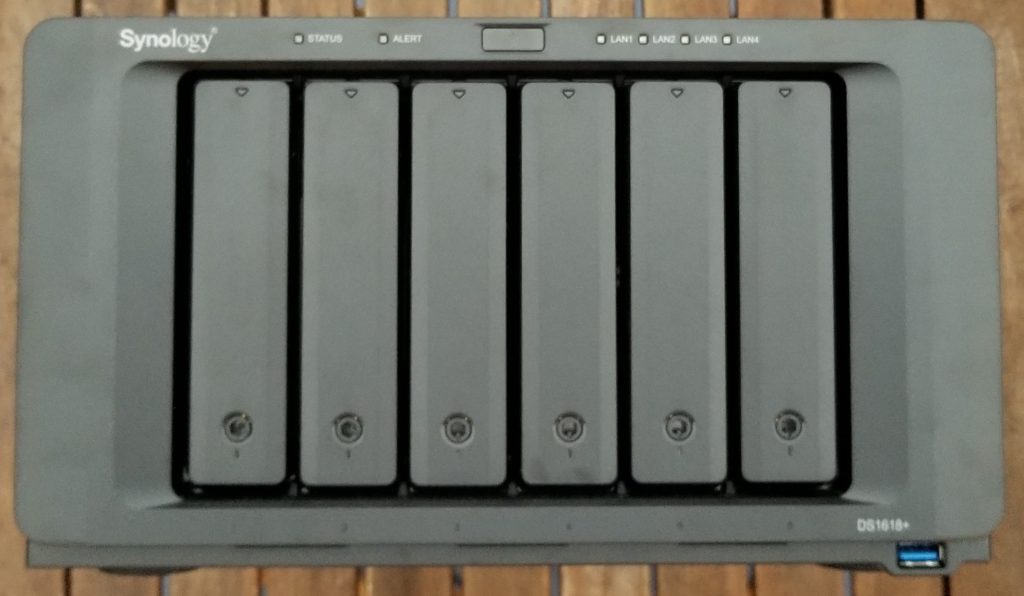 ​
Design
There is a lot of demand and incentive to move the IT infrastructure to the cloud. It's often similarly priced to physical equipment, has 99.9999% uptime, eliminates the worry of failing server equipment, and cloud providers replicate your data to multiple data centers all over the country to prevent loss of data. In return, cloud infrastructure provides you with a worry-free environment.
The one piece of server-room equipment that is not moving to the cloud as quickly as IT infrastructure is, is business storage.
The DS1618+ is meant to be stored wherever you desire. It doesn't need an expensive server room or an air conditioner keeping it cooled. As long as the dust levels are low, the temperature is modest, and it's kept away from touchy fingers, it could run underneath an office cubical desk for all it cares.
Beginning with the physical tour, the DS1618+ is shaped like a small packaging box with measurements of 6.5 inches tall, 11.1 inches wide, and 9.5 inches deep. Unloaded, the unit weighs 12 pounds largely due to the mainly metal frame and body.
Matte black all around, the DS1618+ has a pleasing design. There aren't any hard or rough edges as Synology rounded each edge of the unit. The only plastic found on the DS1618+ is the front shroud and lockable hard drive bay covers.
Speaking of which, the big talking point here is the six drive bays that the DS1618+ has. Each one can hold either a 3.5mm HDD or 2.5mm SSD. Above each drive cover is a drive usage status indicator.
Completely toolless, the drive bays are durable and even have built-in vibration mounts for hard drives. When mounting an SSD inside the bay, you will need to use the included screws.
Those lockable hard drive bays are identical to those found on the
Synology DS718+ NAS
. The locking mechanism is nothing special and just prevents accidental unseats of the drives.
At the top of the front face are more indicators for the unit's status, alerts, LAN1, LAN2, LAN3, and LAN4. In the center of all of these indicators is a blue-lit pushable power button.
Swapping to the rear of the DS1618+, you will find two high airflow 90mm fans that intake air from the front drive bays, as well as from the side Synology-logo vents.
A new addition to this Synology NAS is the ability to add in a PCIe expansion slot. More on this later, but users are most likely to install either a 10GbE network card or an M2D17 M.2 SATA SDD card.
Unfortunately, getting to this expansion card is easier said than done. While you are most likely only going to do this once, you need to remove all six small rear screws to completely remove the DS1618+'s top cover. Only then will you have access to the expansion slot.
To finish off the rear, there is a snug-fitting power port that prevents accidental unplugs, two eSATA ports, four 1-gigabit RJ-45 ports, two USB 3.0 ports, and a Kensington security lock slot.
As this NAS can really be placed anywhere you need it to be placed, it has four rubber and foam feet placed on the bottom of the unit. With two drives installed into the NAS, the vibration and noise level transferred to the desk were minimal. A fully loaded DS1618+ under a full performance load may differ from the noise level of my normal usage.
Its small size really does mean it can be placed anywhere. While I do not have a full-blown server room in my home to test with, I decided to place it in a small bookshelf cubby. There it sits as it would in any environment.
It may just be a black metal box that holds hard drives, but it's a well-designed chassis that Synology put a lot of time and effort into designing. Never mind the cooling and performance aspects, its appearance makes it stand out in a server room amongst the everyday-looking server racks.
You could place the DS1618+ in a showroom window, and it would draw attention just based on its looks alone. As a technology guru, it's interesting to me how an enterprise company, making server equipment for enterprise reasons, puts consumer design into their products. Synology take pride in their equipment and their design shows it.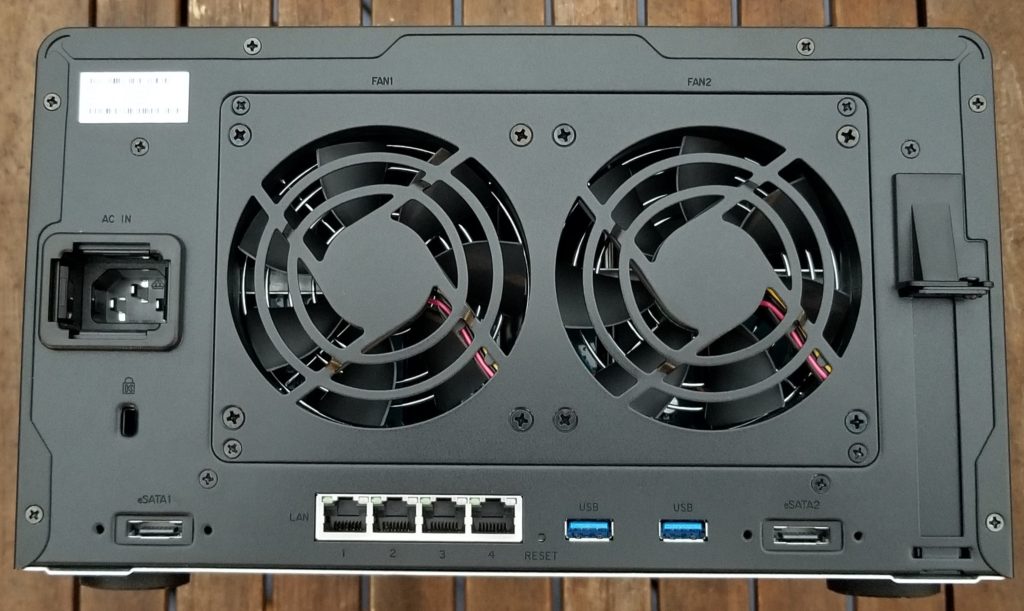 ​
Functionality
If you have ever used a Synology NAS, you're going to feel right at home with the DS1618+. Even if you are a newcomer, Synology uses a Linux-based operating system that feels and looks just like a Mac desktop.
Known as DiskStation Manager (DSM), the custom Linux-based operating system is a clean, straightforward, and modern design that blows the competition out of the water. I have covered the DSM operating system extensively in my previous Synology reviews, and the DS1618+ brings all of the best features over while revising others.
Beginning with the look, Synology adjusted the colors of the DS1618+ DSM operating system to be more of a darker theme, differentiating themselves from the poppy colors that other manufacturers tend to go with.
With the new colors comes a refreshed user experience, that, somehow, improves the functionality of the operating system. The start button or apps launcher now slides down as an application launcher rather than filling your entire screen.
As this is a business product, the consumer apps such as Photo Station and Music Station have been replaced by ones meant for business use. For example, you will notice that the widgets now display each LAN port separately and that iSCSI Manager is installed by default.
Like a Windows computer, each user with a login to the DS1618+ has their own permissions, desktop, and accessibility to the NAS. They can adjust the look and feel to exactly how they see fit. The best DSM tool for the administrator of the DS1618+ is the well laid out Package Center.
For those new to Synology, Synology has an on-demand applications manager that allows administrators to download and install Synology-developed applications for the DS1618+ or install Third Party applications, such as Java, which are vetted through Synology and added to the store.
For those willing to try, Synology does not stop admins from installing applications outside of their own Package Center. Just like an Android phone, if you find a compatible application that you wish to install onto the DS1618+, the Package Center can accept the correct file type.
Regarding device malware protection, there is either the Synology security app or administrators can opt for McAfee Security.
All in all, I quite enjoy the refreshed DSM. Its smooth window animations, modern design, and ease of use are just as I would expect them to be. The DSM alone is enough for me to continue to buy and use Synology products. You can try Synology's DiskStation
here
.
This is a NAS/Server that may be small, but it can play with the big kids on the block. Whatever your plans may be, there's a strong chance the DS1618+ can meet your requirements and maintain expectations.
Soldered to the motherboard is an Intel Atom C3538 64-bit processor that runs at a boost of 2.1GHz. To go with the Quad-Core is one lone stick of 4GB DDR4 SO-DIMM memory, upgradable to 32GB by using two 16GB sticks.
Those LAN ports I mentioned earlier are available for either Link Aggregation or Failover support and support full Gigabit Ethernet.
The sky truly is the limit for the possible use cases on the DS1618+. It can become your NAS, FTP, web host, mail server, RADIUS server, SQL Replication, OAuth, Office, document library, Cloud Sync, VPN, Surveillance System, VMWare Cluster, Active Backup for Microsoft Applications, or even replace your business's IM system.
There is so much that it can do, that if I wrote all about each and every feature, I would be here for a week. So, instead, let me discuss how I could see myself using this in my work environment.
My use case on the DS1618+ is for it to be the ultimate backup solution. Cloud-based chatting and Office apps are neat, but Microsoft already has those covered for 99 percent of businesses. Backups are where the DS1618+ can really shine.
Placed in the server room, loaded on drives, connect a 10GbE high bandwidth networking card and suddenly you've got yourself a large NAS that handles desktop backups, server replication, SQL database snapshots, and VMWare storage.
While most applications and services head to the cloud, local storage for a business is a must-have for inexpensive, accessible, and secure storage.
Having the internal hardware that it has, the DS1618+ becomes your local cloud without the monthly charge for expensive cloud storage or expensive networking needed to access the cloud.
Sent with my unit were two Seagate 6TB hard drives configured in a Synology Hybrid RAID and I used it to create a series of straightforward backups that I would expect to do in my own environment.
Using both Synology's downloadable tools and third-party apps such as Acronis, backups of local clients were painless and efficient. From there, I took a local SQL database and had it write to the NAS as it would for a normal storage cluster. Likewise, VMWare WorkStation was happy to store files on the NAS and accessed content easily. For all of this, I even had a shared folder for the network so that all systems could easily transfer files between one another.
Lastly, read and write performance of the DS1618+ was superb. Through standard Ethernet, I could read files to the NAS at about 1200MB/s while writing was a touch slower around 600MB/s. Often, my files would transfer quickly and peak at 70MB/s before finishing.
Whether it's file transfer, surveillance recording, or backups, the rate at which the DS1618+ performs is enough for most business needs. Those needing more are going to be looking at expensive Cisco-type servers rather than a NAS.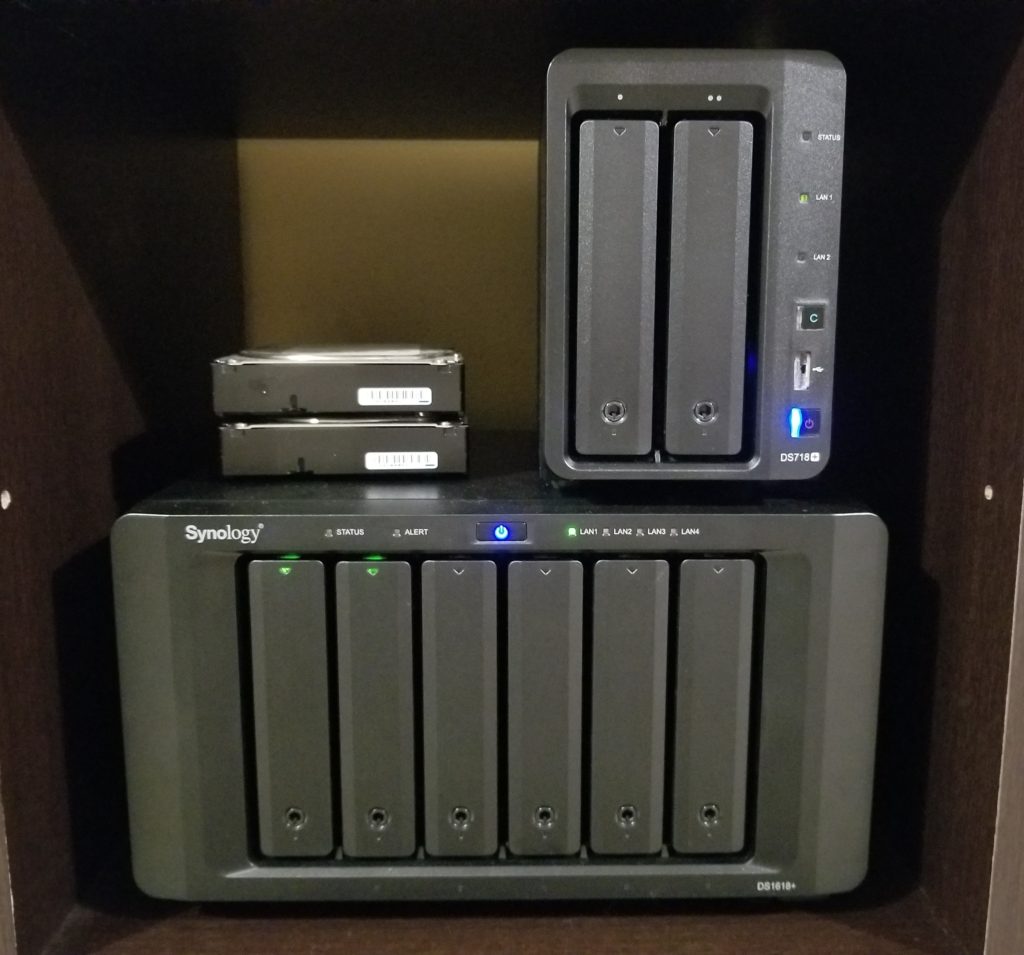 ​
My Final Thoughts
If the point isn't already clear, let me make it obvious by saying that the Synology DS1618+ is an excellent NAS and an excellent product.
Its resound DiskStation Manager operating system is one of the best I have ever used on a server product. Synology makes the tools available and ready to be installed in a matter of seconds. From there, everything is outlined in the application itself or in the extensive Synology Help Wizard.
As a small form factor case, you never need to worry about having a rack mounted system that is heavy, hard to install, manage, or about an expensive backup battery system to go along with it all. It can be placed in a bookshelf cubby and be just as happy as it would be in a server room.
Following that, the powerful hardware gives the DS1618+ the opportunity to perform like a champion on whatever task you can throw at it. It's here to become your storage for everything all in one centralized location.
Meant for a small to medium business, I believe that you couldn't find better and that you can't go wrong with Synology or this DS1618+ NAS. Priced at $799.99 (diskless), it's available and priced appropriately for all users and businesses.
I truly find this is the ultimate backup solution for a business and then some. Throughout my testing and background of understanding a business environment, storage is always needed, and you can never have enough. With expandability, this DS1618+ is going to last for years to come and for that alone it gets a recommendation from me.
Buy it now:

​
© 2018 Justin Vendette